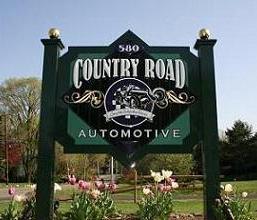 At Country Road Automotive Repair, we love fixing cars!  But, even more than that, we love making our customers happy.  In fact, we think that treating our customers with honesty and giving them great service is the most important aspect of what we do.  As an independent auto repair shop, we've made a special commitment to treating our customers and employees with respect, hiring only the best technicians and staying on top of changing technology.
Complete Car Maintenance Services
When you bring your car to Country Road Automotive, you receive a friendly greeting as we listen to your car maintenance needs.  You will also find we run a clean and well lit shop.  Whether you're bringing your car, truck or van in for its scheduled maintenance or experiencing a problem, we have the qualified staff as well as the necessary equipment to make sure your vehicle is operating safely and you won't have any problems with its reliability.  We are able to handle every auto repair service you require from troubles with brakes and the electrical system, to problems with the transmission or exhaust system.  We also pride ourselves on being the car repair shop that identifies and solves the more difficult auto repair problems.
We believe it is important that our customers make informed decisions when going forward with any repair or maintenance work.  When you bring your vehicle into our auto repair shop, your technician conducts a courtesy inspection of your vehicle to see if there are any safety or repair issues that should be addressed immediately.  We then provide you with a logical course of action to bring about a successful repair in a timely manner.  Click here for a description of some of the more popular car maintenance services performed at our auto repair shop.
Local Car Repair Shops Provide Personalized Service
Because independent car repair shops tend to be small, you have the advantage of getting to know the owner, service manager, and all the technicians.  In fact, you will be able to ask questions directly to the person who is working on your car.  You will also be pleased to know our technicians stay current on all the latest information and are privy to the same technical and repair information as dealerships.
Why Trust Your Vehicle to Country Road Automotive in Lincoln Park, NJ?
Your entire customer experience is important to us.
We make sure your vehicle is entrusted to good hands.  Our technicians are ASE Certified and stay current with the auto manufacturer's ever-changing technology.
You will feel confident in the work being done on your vehicle because we take the time to communicate any needed car repairs to make sure you are completely satisfied with the work being done.
Our car repair shop is equipped with only the best diagnostic tools and equipment.
We provide a 2-year or 24,000-mile parts guarantee for any parts we replace.
See the difference a local car repair shop can make.  For complete auto repair in Lincoln Park, NJ, call for an appointment today.