Automotive Electrical Repair Done Right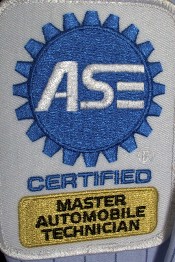 Your car's electrical system is comprised of three main components:  1) the battery, 2) the alternator; and 3) the starter.  When you are out on the road, you don't want any of these items to fail and leave you stranded.  That's why it is important to trust your automotive electrical repair work to experts.  Your car's electrical system should be checked and tested periodically to make sure you won't have a breakdown.  The technicians at Country Road Automotive repair are well-equipped to test your electrical system and are capable of troubleshooting any automotive electrical repair problem.
Preventive Maintenance is the Key to Keeping Your Car's Electrical System Running at Best
When you bring your car, truck or van into Country Road Automotive we conduct a courtesy inspection to see if there are any areas that might need to be addressed.  We'll also ask you questions about how your car has been running.  Since we get to know you and your car, we are in a better position to identify potential problems before they turn into major inconveniences.  We'll let you know if you should be thinking about replacing your battery or dealing with any preventive maintenance on your vehicle's electrical system before it turns into a major automotive electrical repair issue.
In addition to the service you will receive at Country Road Automotive, here are some basic tips to help you extend the life of your car's electrical system:
Tip #1:  Always keep your battery and its connections clean.

Tip #2:  Because cars have different electrical systems, never jump start your car using another car that is running.  Instead, use the other vehicle's battery power alone.

Tip #3:  When you start your car, make sure the major electrical hogs (like the A/C and stereo) are turned off.
Emergency Automotive Electrical Repair Handled Quickly at Country Road Automotive
When you bring your car, truck or van into our shop, we get to work right away to identify the automotive electrical repair problem.  We don't take guesses as to what might be wrong and we definitely don't go through countless diagnostic tests that will show us nothing about the service that is needed on your vehicle.  Instead, we deliver only the needed electrical repair and maintenance services at a fair price.  For all your automotive electrical repair needs, call Country Road Automotive!
Click here to schedule repair or maintenance for your vehicle's electrical system with Country Road Automotive in Lincoln Park, NJ.