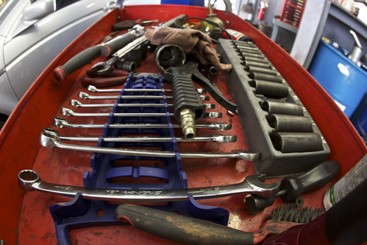 There are many variables that can affect the performance of a transmission.  The transmission may well be one of the most complicated components of your car and can cause some serious problems if ignored.  There are many places a transmission can leak including the pump, shift lever seal(s), kickdown seal, electrical connection(s), governor cover, speedometer, etc.  An automatic transmission is also very sensitive to the transmission fluid quality and condition.  In fact, improper fluid type can damage your car's transmission.
That's why it's important to trust its maintenance and repair to experts in a transmission shop.  There are a number of problems that can be resolved with an adjustment while others may require a complete transmission overhaul.  The skilled technicians at Country Road Auto have the training and expertise to properly diagnose any transmission problem.  The goal of our transmission shop is to quickly identify and correct the problem so your car is back on the road and running at its best possible level of performance.
Is your transmission giving you problems?  Call Country Road Automotive in New Jersey and schedule an inspection in our transmission shop.
Avoid Costly Transmission Repairs with Preventive Maintenance
No one wants to deal with a serious transmission problem.  Not only can it be costly, but it's inconvenient.  Preventive maintenance is always the best measure in keeping your transmission running smoothly.  It's important to periodically check the transmission fluid level and its condition.  It's also imperative that you repair any leaks and deal with problems promptly.  Here are some signs that may mean there is a potential transmission repair problem:
Low transmission fluid level – Transmissions do not consume fluid so if the level is low, you have a leak that should be repaired.
Staining from transmission fluid under your car – This is an obvious indicator that a leak exists and quires transmission repair.
Transmission fluid smells burned or looks cloudy.
Erratic shift points or unusual noises when shifting. 
When it comes to transmission repair, the transmission shop at Country Road Automotive, located in Lincoln Park, NJ, can identify if you have a problem and make the appropriate repairs.
If you need a transmission repair, click here to schedule an appointment with Country Road Automotive in Lincoln Park, NJ.