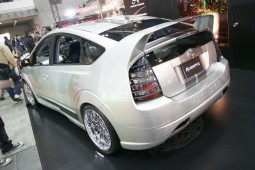 If you are considering the purchase of or already own a hybrid vehicle, it's important to work with a trusted hybrid repair shop when it comes to maintenance and repairs. That's because these engine systems are quite complex and require a greater knowledge of how the engine system works so that hybrid repairs and hybrid maintenance can be completed properly. At Country Road Automotive, our team of certified hybrid specialists can assist you when it comes to caring for your hybrid vehicle. For example, hybrid batteries are designed to last 7 to 10 years – much of the life of your hybrid vehicle. Replacing a battery with one that is new would cost several thousand dollars.  In some cases, the hybrid battery pack might not need to be replaced, but could be regenerated.  We'll let you know the best course of action when it comes to dealing with the repair of the hybrid components of your vehicle.
What You Need to Know About Hybrid Maintenance and Repair?
Hybrid vehicles, like your Toyota Prius or your Honda Accord Hybrid, combine a gasoline engine with one or more electric motors. While you are driving, the car is producing energy and making decisions on which fuel source to use (gas or electricity). Because your hybrid vehicle is designed to switch to the most economical power source automatically, you end up using less gasoline than you would with a conventional vehicle. Though the result is less wear and tear on the traditional engine components, this does not mean your hybrid car doesn't need to be maintained regularly. (Check out our blog post on 4 Things to Know About Maintaining Your Hybrid Car)
Other than the systems that control the on-board storage batteries and the electric drive motor, which don't require any additional regular maintenance, you'll still need to have tune-ups, oil changes, tire rotations, etc. Even so, here are a few things you need to know about hybrid maintenance:
When engineers designed the hybrid system, they used extremely sophisticated electronics.
Hybrids utilize different weights of oil than you may be familiar with using in your automobile.
The wiring system for your hybrid vehicle is complex and runs from the battery all the way to the engine compartment.
Your hybrid vehicle has many more volts of electricity (often identified by their bright orange casing).
If you are a do-it-yourselfer, you may want to leave the hybrid maintenance and repair issues to the certified experts at Country Road Automotive. Click here to schedule your hybrid repair or hybrid maintenance today.
Why Choose Country Road Automotive for Your Hybrid Repair and Maintenance?
At Country Road Automotive we are committed to providing the most knowledgeable hybrid repair and maintenance services in the Lincoln Park, New Jersey area. So much so, that we've sent our technicians for special training and we hold a certification in Hybrid repair and Hybrid maintenance from ACDC (Auto Career Development Center). We don't stop there! By combining our training with state-of-art equipment, tools and technology, we are able to provide our customers with the same high-quality repair and maintenance services for their hybrid vehicles that they have come to expect from us with all their vehicles. Here's a representative list of the hybrid vehicles we can service at our hybrid repair shop:
Chevrolet Volt
Ford Fusion Hybrid
Honda Accord Hybrid
Honda Civic Hybrid
Honda CR-Z Hybrid
Hyundai Sonata Hybrid
Lexus CT200H
Nissan Leaf Hybrid
Toyota Camry Hybrid
Toyota Prius
Volkswagen Jetta Hybrid
and more
Contact our hybrid repair shop today to schedule an appointment for your Toyota Prius, Ford Fusion, or other hybrid vehicle.